Joshua Tree & Cracked Ribs, part 1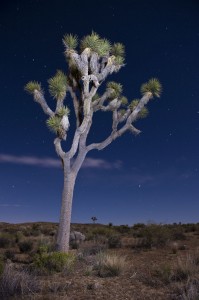 What should you do right after you crack some ribs?  Go bouldering at Joshua Tree National Park, of course!
At the end of our street is a wonderful path through the trees up to the sports fields at our local high school.  Last Tuesday, we took the girls up there to kick some balls around on one of the fields… and in a game of Capture the Flag, as I was running hard to get around Hannah, I hit a patch of wet grass and my feet totally went out from under me.  I landed really hard on the left side of my chest.  Where apparently I either badly bruised or cracked one or more ribs.  The next day, I went to the doctor… who essentially said that the treatment is the same whether they're bruised or cracked (so long as there aren't any ribs sticking out where they shouldn't be!):  go home and suck it up.  You can't immobilize your ribcage!  As I write this, a week later, they still hurt like heck nearly constantly, so at this point I've got my money on having actually cracked one or more ribs.  But we'll see!
Meanwhile, my photography buddies Garry and Phil called to see if I wanted to join them on a super-banzai trip out to Joshua Tree National Park–out Saturday afternoon and back very late Sunday… two sunsets and one sunrise.  So why not?  I'll be in pain wherever I am, so why not be someplace fun? Note to self:  climbing up and down boulders is particularly painful with cracked ribs!
As many years as I've lived here, I'd never made it out to Joshua Tree.  It was always just a little bit further than I wanted to go for a weekend trip and not high enough on the list for longer trips.  But it's amazing!  Crazy jumbles of boulders piled on top of each other.  Saturday we hit the rock arch at White Tank, then headed over to Jumbo Rocks for sunset.  Jumbo Rocks has a big campground, that was full… full of mostly inebriated folks out randomly wandering the rocks, howling at the nearly full moon at sunset!  Or perched on top of insane rock outcroppings, where you have no idea how they actually got up there!  Sunset was beautiful, though we could have used a few more clouds!
We opted for a night in a hotel room back outside the park in Twentynine Palms, which turned out to be a brilliant plan because the wind was HOWLING that night (and if you've ever slept in a tent in howling wind… well, you don't sleep much!).  At 3:15 AM we got up to head back into the park for Milky Way shots (the nearly full moon was setting at 4:05, so we'd have a little time before the sky started to lighten).  But we looked outside the window at the flag in front of the hotel, which was trying hard to get to the next county!  It was like The Weather Channel stuff during hurricane season.  So we went back to sleep for another hour.  Turns out that we probably should have gotten up.  The wind was coming and going, and perhaps we would have had enough of a break to get a few shots in.
Sunday, we did sunrise in the rocks north of Jumbo Rocks, then explored the Ocotillo gardens and Chollo gardens in the eastern side of the park, then did the loop trail at Barker Dam (nice!), before returning to Jumbo Rocks for sunset again.
It was a fun trip, if painful!
[More photos to come, as I process more of them.]
Click the first thumbnail to view photos larger, then click the right arrow to advance.