Around Page, Arizona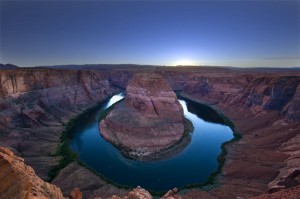 My recent photography trip to Utah and Arizona started and ended around Page, Arizona.  Most people know of Page (if they do) because of the Glen Canyon Dam at the downstream end of Lake Powell and the Glen Canyon National Recreational Area.  Photographers, however, know of the area because of Horseshoe Bend and Antelope Canyon.
Horseshoe Bend is a sunset shot, so when I arrived in Page just an hour or so before sunset, I headed straight there.  I hadn't been to this location before, but had read plenty of descriptions of photographing there… and was slightly terrified!  Plenty of photographers have said that this was one of the scariest places they'd ever shot.  In order to get the outer edge of the bend of the Colorado River into the frame of your photograph, you have to set up your tripod literally inches from the edge of the cliff.  The 1,100 foot cliff.  Straight down!  A Greek tourist fell to his death a couple years ago–apparently he was standing on or near the edge and the sandstone gave way.
The first part of the trail from the parking area at Horseshoe Bend is quite steep and sandy.  It's a hard slog uphill… and I happened to hit it exactly when the angle of the sun was exactly that of the trail and straight into the sun–so you couldn't see a thing!  But to make it more fun, I slogged up that hill not once, not twice, but three times.  This was my first photo stop on this trip and I didn't have my gear all settled into place yet; first I forgot my headlamp, in case I stayed out there too long after sunset, and second I forgot my intervalometer (remote shutter release).  By the time I was doing the first part of the trail the third time, the sun was getting dangerously close to setting.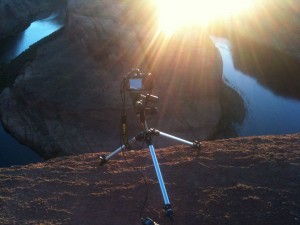 Happily, I met up with fellow nature photographer Che Wilson, from Tucson, and his girlfriend Kelly.  Neither of us had shot Horseshoe Bend before and he was less intimidated by it than I was–which in turn made me more confident.  Even just having company made it less intimidating!  Che was willing to stand right at the edge, with his tripod fully extended.  Me, I put my tripod on it's lowest setting, sat down five feet from the edge, and scooted out!  Check out the photo here, to the right, of how close you have to set your tripod to the edge of the 1,100 foot drop!  Sadly, Che and I got skunked on the sunset–no clouds at all–so the photos are less spectacular than they could be.  The following evening there were all kinds of big, poofy clouds and I'd bet that photos from here would have totally rocked.  I thought about sticking around for sunset again at Horseshoe Bend, but the wind was howling… and perching several inches from the edge in really strong winds seemed like not a great idea!
I wasn't sure where I'd end up for the night, but after some quick research I ended driving back over just into Utah to the Lone Rock campground in the Glen Canyon National Recreational Area.  It turned out to be a very popular beach campground, where I set up my tent feet from the edge of Lake Powell and got a great night's sleep–even though there were probably 100 RVs also camped there!  Early the next morning, I was up and out to be at Lower Antelope Canyon when they opened that Navajo Tribal Park at 8:00 AM.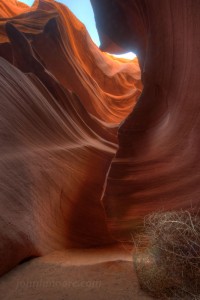 Antelope Canyon (Upper and Lower) are two very narrow slot canyons which are famous for their photographs of "God beams" (light beams) filtered through the narrow top openings in the canyons.  Lower Antelope Canyon is supposed to be a early morning shoot and Upper Antelope Canyon is a late morning to midday shoot–for the God beams.  At 8:00, I was the first one into Lower Antelope Canyon along with a couple guides who were on cleanup crew (raking the sand and removing tumbleweeds that had fallen in overnight).  Later I heard that part of the morning cleanup is also bagging snakes which have fallen in overnight, but I didn't see them bag any snakes (not sure if there weren't any or if they were discreet!).
In summer, the "photography tour"–self-guided and longer–is only two hours (instead of four in winter)… which is nowhere near enough time given the number of tourists going through the canyon every 15 minutes in tour groups!  Getting a long-exposure shot in was pretty difficult… either a tourist was walking into your shot, or they knew enough to hold back… but they'd pull out their point-and-shoot camera and fire off a bunch of flash shots–still ruining your shot!  I ended up shooting with a really nice German couple whose names I didn't get (one of the lessons I'm slowly learning is that it's pretty much always a mistake not to get the names of the folks you end up shooting with!) and we all opted to stay in the canyon for an extra hour.  They charge extra, but you simply couldn't get your shots in without the additional time, given how much waiting you had to do.  Even better would be if they would open the place at 7:00, with a first hour (of great light, I'm sure!) for photographers only.
In the end, given how seriously annoying it was to photograph in Lower Antelope Canyon during summer tourist season, and given that Upper Antelope Canyon is more popular (it has better God beams), I opted to skip Upper Antelope Canyon on this trip.  I'll go back someday in Winter or Spring, when the place is less overrun!
Click the first thumbnail to view photos