Mother Nature Beats Disney!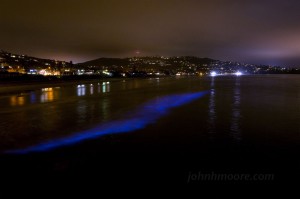 This year, San Diego is having the most intense red tide that anyone can remember in some time. It's remarkably thick, remarkably large in terms of geographic coverage, remarkably bioluminescent, and has persisted for a remarkably long time! A red tide is a massive algal bloom, sometimes harmful, but generally not in Southern California. Our red tides are usually made up of the dinoflagellate Lingulodinium polyedrum, which has the really awesome property of being bioluminescent. Movement causes them to flash neon blue.
Diving in a red tide sucks during the day (it's like diving in thick red pea soup and you can't see a thing), but at night it's awesome. Often you can get beneath the red tide and have great visibility, and then once you're back in shallow water towards the end of the dive the vis goes to crud… but it's all good! Turn off your lights and just enjoy the show. Move your hand in front of your face and a wave a blue sparkles flows off your fingers. It's like Disney, but way better and in real life. Swimming fish create blue streaks in front of you. The bigger the fish, the bigger the streak. You can't see more than a couple feet, but man can you see the blue streaks. The really big blue streaks get your attention! Turn to your buddy and he's completely outlined in neon blue sparkles. Sometimes it's so thick that you can't see anything but blue because the movement of your mask creates so much bioluminescence that you can't see past your mask!
The surface swim out and back can be amazing also—once you get past the surf zone and a little further from the city lights, your motion creates a brilliant blue wake. I've tried to get photos on the surface and below water, but haven't succeeded. I'm not sure that it's possible, even with the best digital SLRs. But you can get great photos from the beach of surf glowing blue as the motion of the breaking wave causes the dinoflagellates to fire. Here are some photos that I've gotten of this red tide—the closeup photos were taken at Torrey Pines State Beach (a nice dark spot once you get away from the road) and the wider shots were taken at Scripps Institution of Oceanography.
Click the first thumbnail to view photos.