Yosemite: Full Moon Rising
Sometimes best laid plans just don't work out…
Looking at astronomical time tables and lineups on maps back here at home in San Diego, it looked like the full moon in mid-January would rise just after sunset and just to the right of Half Dome in Yosemite National Park, if one were at Glacier Point. And most unusually for mid-January, the road to Glacier Point was still open… because the winter has been so very dry and all of the Yosemite high country—normally buried under feet of snow—was still accessible.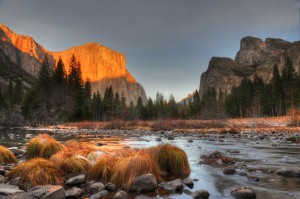 I made plans to meet Jeff Sullivan and Lori Hibbett at Glacier Point before sunset on the date of the full moon, packed up and headed up to Yosemite the day before. A couple hours after arriving at Yosemite and getting my campsite set up found me shooting sunset from the extremely icy/frosty rocks at the Merced River at Valley View. I was very cautiously creeping around trying not to break either my bones or my camera equipment, when a tap on the shoulder announced the unexpected pleasure of John Mueller's company. We shot sunset that night and he said that he and his fiance, Jessica, might join Jeff, Lori, and me up at Glacier Point the next day for the sunset moonrise.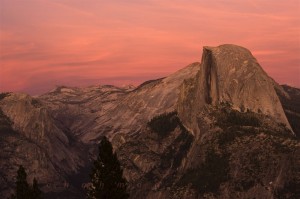 The next evening all of us met up at Glacier Point for what promised to be a spectacular sunset. Gorgeous oranges and purples. The only problem? The moon didn't clear the mountains to the east until five minutes or so after all the gorgeous sunset color faded! We had counted on our being at relatively the same elevation as the mountains meaning that the moon would rise fairly close to the moonrise time, but the elevation caused a critical ten minute delay. The day before might have been better, with the mix of sunset color and risen (nearly) full moon, but the moon would have been higher in the sky for sunset and not as close to Half Dome. Ah well, perhaps next time it'll rise that critical ten minutes earlier!
We made the best of what we had and still shot the full moon next to Half Dome—but without the spectacular sunset colors and with too great of an exposure difference between the darkening sky and the bright moon, so that you can't see any detail in the moon. We also did some nice silhouette shots, though next time I'll shoot wider to show all of Half Dome in my shot. It was a fun night and good company… followed by a long drive in the dark down the mountain from Glacier Point to the valley below. Upon pulling out of the Glacier Point parking lot, my GPS was convinced that I needed to turn around to get back to Yosemite Village… which would have involved launching the car off a several thousand foot cliff! Definitely the express route back, but… who knew GPS units could be suicidal?
Click the first thumbnail to view slideshow