Snow at Mount Laguna!
Twice so far this winter we'd made it up to Mount Laguna, an hour east of our house in San Diego, for sledding with the girls when winter storms had temporarily brought snow… and on Monday of this week the forecast was for a strong winter storm bringing the snow level down to 2,500′ and 8–10 inches of snow up at Julian and Mount Laguna. It rained really hard at the coast Monday evening and even briefly hailed. So I got all my gear together Monday night and dragged myself out of bed 90 minutes before sunrise Tuesday in the hopes that the roads were passable up to Mount Laguna.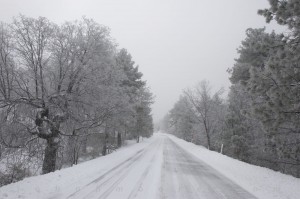 As the sky lightened and I passed Alpine, going up in elevation, even the freeway got a bit sketchy. Sudden changes in direction or acceleration might not have been a good idea! Off the freeway at Sunrise Highway, I put on my snow chains and headed up the side of the mountain. Roads had been plowed, but were still almost completely snow and ice covered. Driving was passable… except when I would see a shot and slam on my brakes… after which I would prove that anti-lock brakes with snow chains on makes for a really interesting skidding experience, even when you were only going 20–25 MPH! I made sure not to brake hard for any photos in curves or near drop-offs!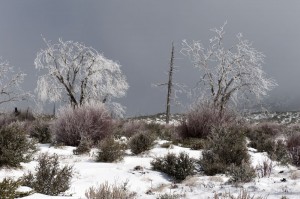 It continued to snow off-and-on through most of the morning, with low clouds enveloping the mountain. There wasn't as much snow on the trees as one might have hoped because the winds had been gusting to 80 MPH overnight, but many had a light coat of something resembling ice—which would light up just beautifully when there was a break in the clouds and the sun hit the trees. I worked back and forth along the road before and after Mount Laguna, sometimes briefly parking on the road while jumping out to get a shot, other times managing to park my car mostly off the road while I tromped through snowy fields. Other than the Border Patrol and San Diego Sheriffs, I was the only one up there that early.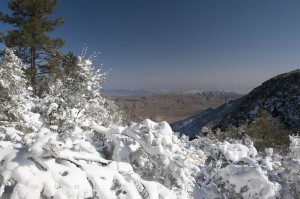 By mid-morning, the clouds east over the Anza-Borrego Desert had dissipated and the view from snowy mountain down into dry desert was spectacular!
Late morning the light had gone yucky and the clouds hadn't broken up into anything pretty, so back down the mountain I went with frozen toes and snow chains rattling on the now mostly bare pavement.
Click the first thumbnail to see a slideshow