Snow in Yosemite and California Poppies
After much grousing about missing the great Yosemite Valley snowstorm the weekend March 18 ("um, honey, I know it's your birthday and all, but, you see, there's this really great snowstorm coming, and, um…."), a friend contacted me April 12th to tell me that they'd updated the forecast for the Valley to include 8–12 inches of snow the next night. Following a bunch of rushed planning and many messages back and forth, I decided to go and would pick up one of the photographers I'd met out at the Anza-Borrego meetup in March, Tony Payne, in Los Angeles on the way.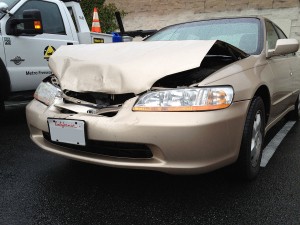 Getting through Los Angeles from San Diego, headed north, on a weekday morning is NOT FUN, so I was up early and out… and making good time up I-5 through Los Angeles until… someone in the line of cars in front of me braked hard, the next person had to brake harder, and so on down the line until some chump stood no chance of being able to stop in time. I was that chump. My first accident in 30 years of driving. And what really annoys me is being told that I was at fault… that I should have been far enough behind the car in front to be able to stop. I'm sorry, have these insurance nitwits ever driven in heavy traffic in Los Angeles?? There is no way that you can be whatever distance your stand-on-your-brakes-as-hard-as-you-can-at-freeway-speeds stopping distance behind the car in front of you. If you're that far back, another three cars will fill the empty space.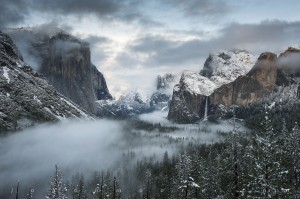 Many hours and a 4WD rental beast of a midnight black Tahoe later, I was again on my way north to get Tony. After we threw all his gear in the Tahoe and got back on the freeway, it started POURING rain so hard that the Grapevine was a river flowing down into the city… and trying to take us with it! With snow on the mountains at the top of the Grapevine, we may have been lucky to get through before they closed it. Up through the Central Valley and once off 99 at Merced onto 140, the skies were clearing with gorgeous big poofy clouds and late afternoon light. All down 140 and especially once driving along the Merced River, we kept passing absolutely gorgeous photo opportunities—rolling green hills, beautifully rounded trees on hilltops, wildflowers everywhere, then snow on the Merced with Yosemite's granite peaks in the background once we got closer. We kept thinking hard about stopping to photograph, but were running late to make it to Tunnel View by sunset. We banked on Tunnel View, the clearing clouds, and snow… which is close to what we got! It's a toss-up as to whether we should have stopped and missed sunset at Tunnel View. Maybe we should have. But Tunnel View was nice also.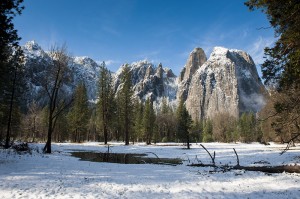 Tony and I set up our tents in Camp 4 in the snow and dark, then were up early Saturday morning for a foggy sunrise. The fog cleared and we had a gorgeous morning photographing in the Valley, then headed down 140 into the Merced River Canyon, but the light was in the opposite direction that it'd been in when we were driving in the evening before, so everything was all wrong. Early afternoon found us back in the Valley and everything clouded in; we didn't see the sun again until Sunday morning when we left Yosemite and headed west.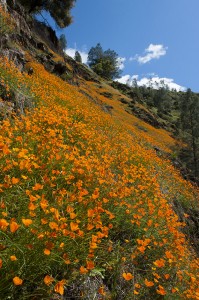 As much as I'm coming to love Yosemite, I think the best parts of this trip might have been outside of the park. Certainly Sunday was amazing! By accidental good fortune only, we met up with Dave and Char Hoffman at the trailhead for Hite Cove Trail not far outside the park. Neither Tony or I had been there, but we'd heard good things. And amazing it was! The trail runs midway up the side of a very steep river canyon, parts of which were absolutely covered in California Poppies! The sun came out, the poppies opened up, and there were even some big, poofy white clouds! My favorite photos from the weekend were from the drive out!
After an oh-too-short hike with Dave and Char, we headed to Mariposa for a fabulous lunch at the Sugar Pine Cafe, and then stopped every five minutes on the drive out—photographing the rolling green hills, horses, cows, barns, perfectly crowned trees… and an almond tree grove, where the trip was capped off by a very sarcastic farmer across the road yelling out at me, "Oh my god, take a picture!!" when I stopped to do just that. Apparently, I wasn't the first person to have that idea!
And from there we got safely home, with no more cars being damaged in the making of this film these photos. Two weeks later and my car is still in Los Angeles, being fixed!