Happy, Happy, Joy, Joy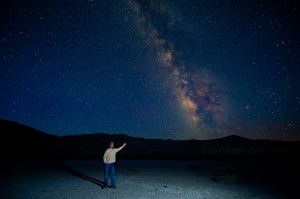 One of the areas of photography that really draws me personally is night photography. Until three years ago, I had absolutely no idea what night photography was… or even what the Milky Way was. I'm not sure when I last had been someplace truly dark and had paid any attention to the sky at night. But then in spring of 2010, Garry McCarthy, Phil Colla, and I took a long weekend trip to Death Valley, and Garry was all excited to do some night photography. He wanted to shoot this Milky Way thing. Me, my biggest concern was "what was this Milky Way thing and how would we even know if we were pointing our cameras in the right direction??"
As you can see in this photo of Garry pointing the Milky Way out to me, when you get someplace truly dark and look up at night, it's pretty obvious where the Milky Way is!! Well, it's not this obvious to the human eye, but it IS obvious… and even more so with a long exposure such as this.
Since then, I've been hooked on night photography, especially photographs of the Milky Way above something interesting in the foreground. I've wanted for several years now to get up to Crater Lake National Park in southern Oregon to photograph the Milky Way over that gorgeous, reflective lake… and a week ago I finally had that chance! I got to spend two days up there, with two gorgeous, clear skies, dark skies nights out shooting half the night each. I would shoot until 2-3 AM, grab a couple hours sleep on an inflatable bed in the back of my rental minivan, and then be up again by 5:15 or so when the sky was significantly lightening towards sunrise.
The first night the sky was especially beautiful, as we were blessed with "airglow" in addition to the stars and Milky Way. Airglow is some kind of chemical reaction high in the atmosphere that creates the green streaks that you see in the sky here below the Milky Way.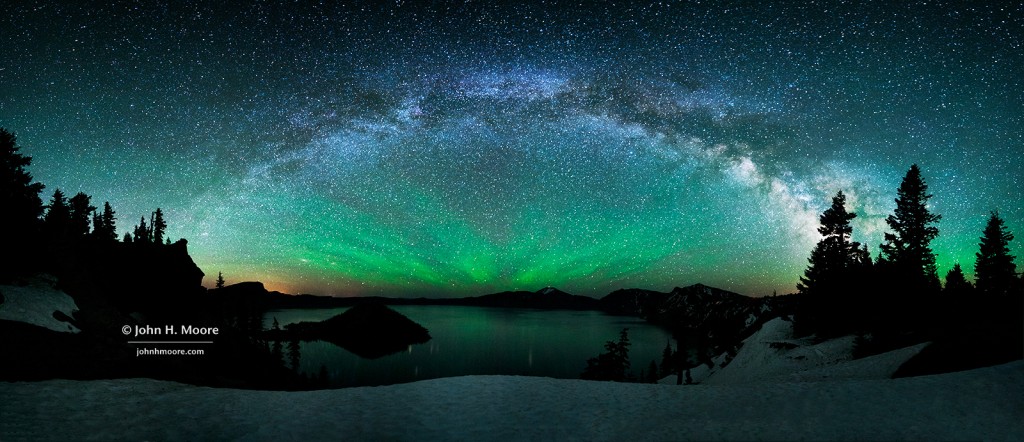 The second sunrise was also especially beautiful, with a fabulous swoosh of clouds reflected in the lake and the sun peaking over the caldera rim opposite.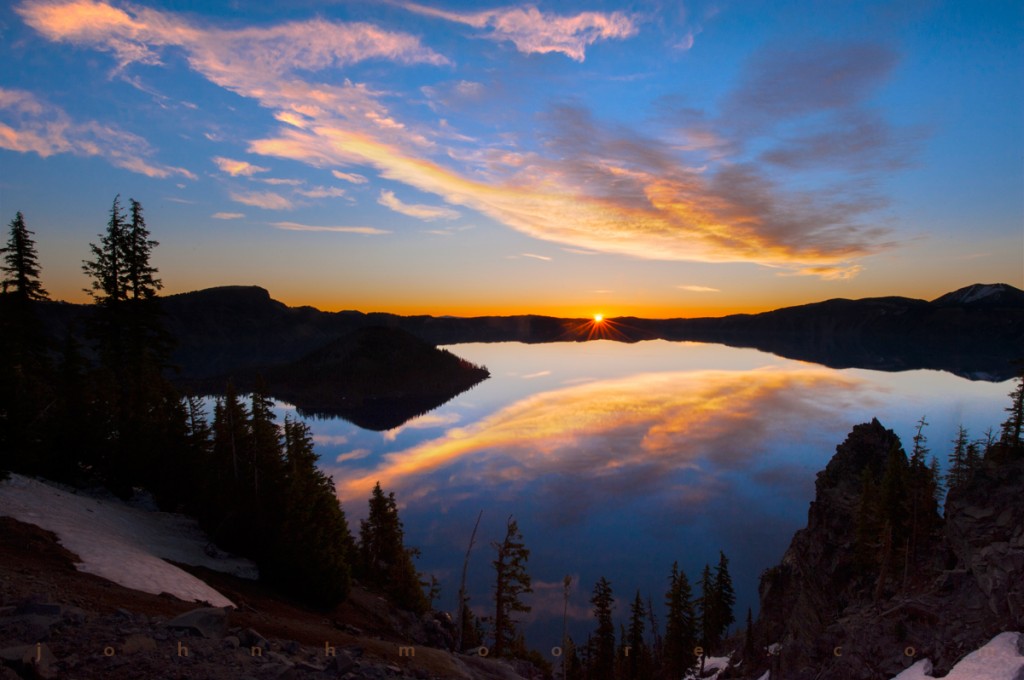 I've only just begun to process photos from this trip, so… more to come!