Yosemite Rainbows and Moonbows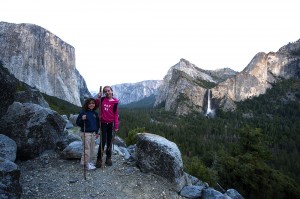 Another last-minute run up to Yosemite National Park—and this time I brought two of the kids! We went up the first weekend in May for the full moon, to show them Yosemite, to see & photograph rainbows and moonbows, and to join in a Google+ Photowalk led by Jeffrey Sullivan and Lori Hibbett.
We got up there Friday afternoon and got what must have been the very last campsite / open bear bin in Camp 4, then joined an early dinner gathering of the Photowalk crew. From there, maybe 15-20 of us decided to hike up an old, old access road across from Bridalveil Falls to try to frame up the rising nearly-full moon behind the falls. It was a fairly easy hike up and a great view. Hannah and Ava made another little friend, daughter of one of the other photographers, and those girls scrambled around on rocks while the rest of us photographed a beautiful evening rainbow on Bridalveil. Later just my girls and I hiked up a bit further right around sunset and found a great patch of lupine to frame up in the photo, thus fulfilling Ava's sage advice to "get something unique, Daddy, something not everyone else is getting!"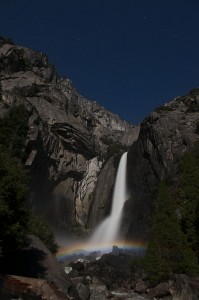 The girls were troopers for the weekend, going to Lower Yosemite Falls one night for a quick moonbow shot (the full moon creates a rainbow in the mist of the waterfall), hiking the Mist Trail the next, and allowing a quick shot of the moonbow on Upper Yosemite Falls the following night. Quick was the operative word… when you have kids with you, you can't stand in one place for hours waiting for the shot!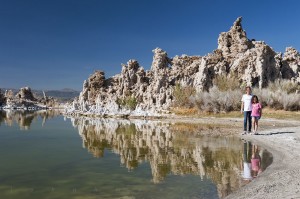 Monday they opened Tioga Pass Road for the season, so we crossed over, had a nice picnic lunch at half-frozen Tenaya Lake, quickly explored Panum Crater and Mono Lake on the backside, and then headed home down the long 395 stretch.
It was a fun trip and the girls did a great job of putting up with three nights in a tent and a bunch of hiking!