La Jolla Coast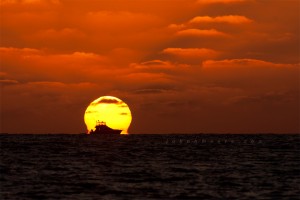 Living ten minutes from the coast in San Diego, California, you'd think that I'd have endless opportunities to photograph perfect sunsets over the Pacific Ocean… and you'd be wrong! Here in San Diego, we're either blessed by clear blue skies or cursed by the marine layer (a bank of low clouds that comes ashore in the evening and moves offshore in the morning). Nice sunsets need some clouds—to have something to turn those amazing colors!— but not too many clouds. Here in San Diego, we generally hit both extremes, but rarely that perfect middle ground with a bunch of big poofy clouds to blow up in color at sunset.
This past Tuesday I met up with a half dozen other local photographers at the WindanSea beach in La Jolla to see what we could make of a low tide at sunset. WindanSea is a popular surfing break, so when I got there 90 minutes before sunset, I spent a little time photographing some of the skimboarders, then headed north past two commercial photographic shoots and clambered up onto the rocks to find the others.
It was a fun gathering and we were treated to a couple minutes of not-entirely-sucky sunset color! Not to mention the AMAZING green color of the short algae covering the tidepool rocks as the sunset light hit the shore. And for an added bonus, a fishing boat was anchored absolutely perfectly below the setting sun… which we could actually see (no marine layer obscuring the horizon that day!). To frame up the fishing boat for the shot shown here, I had to go about 150 feet south on the tidepool rocks with my longer lens… and, believe it or not, my camera battery died when the sun was literally halfway past the horizon! I dashed the 150 feet back to my camera bag, changed batteries, ran back… and the sun dipped below the horizon! Such timing! But I'm still happy with the couple shots that I got!