The Perfect California Sunset Photo… That I Didn't Get!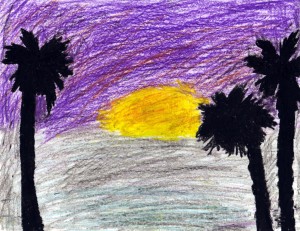 This is the sunset shot that I DIDN'T get two nights ago at the La Jolla coast. I was at home Friday evening, feeling absolutely sick as a dog, when our 12 year old, Hannah, called out to me that the light in the clouds to the west was just beautiful. You may think that this is a common occurrence in Southern California, but the truth is that our sunsets usually suck—more often than not we have either no clouds whatsoever or a heavy marine layer at the coast, both of which make for poor sunsets.
I dragged my carcass out to the back yard to look and the clouds were indeed beautiful! I hesitated for a moment, then grabbed my camera bags and headed out the door. On a normal day, I can make La Jolla Shores from my house in about 7 minutes. But this was 7:35 PM on a Friday and I was trying to go through downtown La Jolla, with about 20 minutes until sunset.
I didn't make it! As I sat in traffic at the east end of Prospect Street, I was treated to a gigantic glowing ball of yellow fire sinking through a brilliant purple sky into the gray marine layer… framed by palm tree silhouettes on either side. Absolutely freakin' PERFECT California photo. Once in a … maybe not lifetime, but no-so-freaking-common. And I was stuck in my car in traffic. And my camera was in the trunk. And I would have needed a longer lens than was on the camera.
I quite seriously thought about putting the car in park in the middle of the road, getting out, opening the truck, changing lenses, taking the shot in the middle of the road, then jumping back in and driving off. Maybe the people behind me would have understood??
Then the sun disappeared into the marine layer.
When I got home, I asked Hannah to find her pastel oil crayons so I could draw the shot that I didn't get. The second one is my drawing (sorry, someone folded it, apparently). Then Hannah disappeared for a bit and came back with the first one. As you can see, she's the better artist! The third image is a pathetic attempt at saying that I got something, anything from my drive down there… which I really didn't. This was the best of lot. 🙂