More La Jolla Sunsets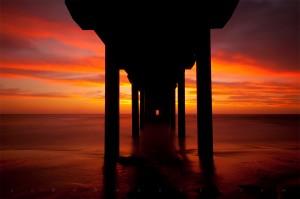 Haven't gotten out of town recently, but have been working on La Jolla sunsets for the past couple weeks. This started with a EPIC FAIL down at Scripps Pier on August 9th. I wasn't really planning on going to the coast, but when the sky looked nice at the last minute, I grabbed my bags and ran. I was too late to make the rocky coast over in La Jolla proper, so turned right at the bottom of the hill and went for Scripps Pier instead. Parking was harder than it ought to be, and when I ran (literally!) onto the beach there, I was surprised to see a large group of people by the pier. As I got closer, it became apparent that they were all photographers and all set up under the pier!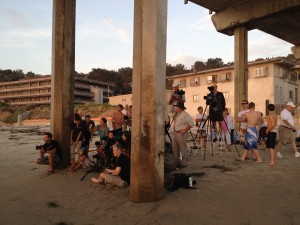 I'm not a big fan of crowds when I'm shooting, so I set up 50 feet south of the pier and didn't really give the crowd a second thought. It's summer. People are strange. Whatever. I took an iPhone photo of the crowd, joking that the real shot was all the photographers jammed under the pier, and then went back to my spot by myself 50 feet away. It was a gorgeous sunset! At the very end of the sunset I wandered back over to the pier and only then saw that IT WAS THAT NIGHT. THAT NIGHT EVERYONE WAITS ALL YEAR FOR. OH CRAP!!
Twice each year the setting sun lines up exactly in line with Scripps Pier, so that it sets in the small "window" at the end of the pier. This happens once in May, when we usually are overcast at sunset and you can't see the setting sun, and once in August—when there's a greater chance of seeing the setting sun. Probably you get a decent sunset on the alignment date once every couple years. And here I was, 50 feet away, and didn't even realize that it was THAT NIGHT. I got some nice sunset shots, but nothing at all like THAT SHOT. Perhaps it goes without saying, but I've put the dates for 2013 in my calendar already!
Meanwhile, and perhaps to make up for my EPIC FAIL on the 9th… and for having been sick all of July, I've been down to the coast a bunch of times recently looking for nice sunsets. Here's some of what I've found: